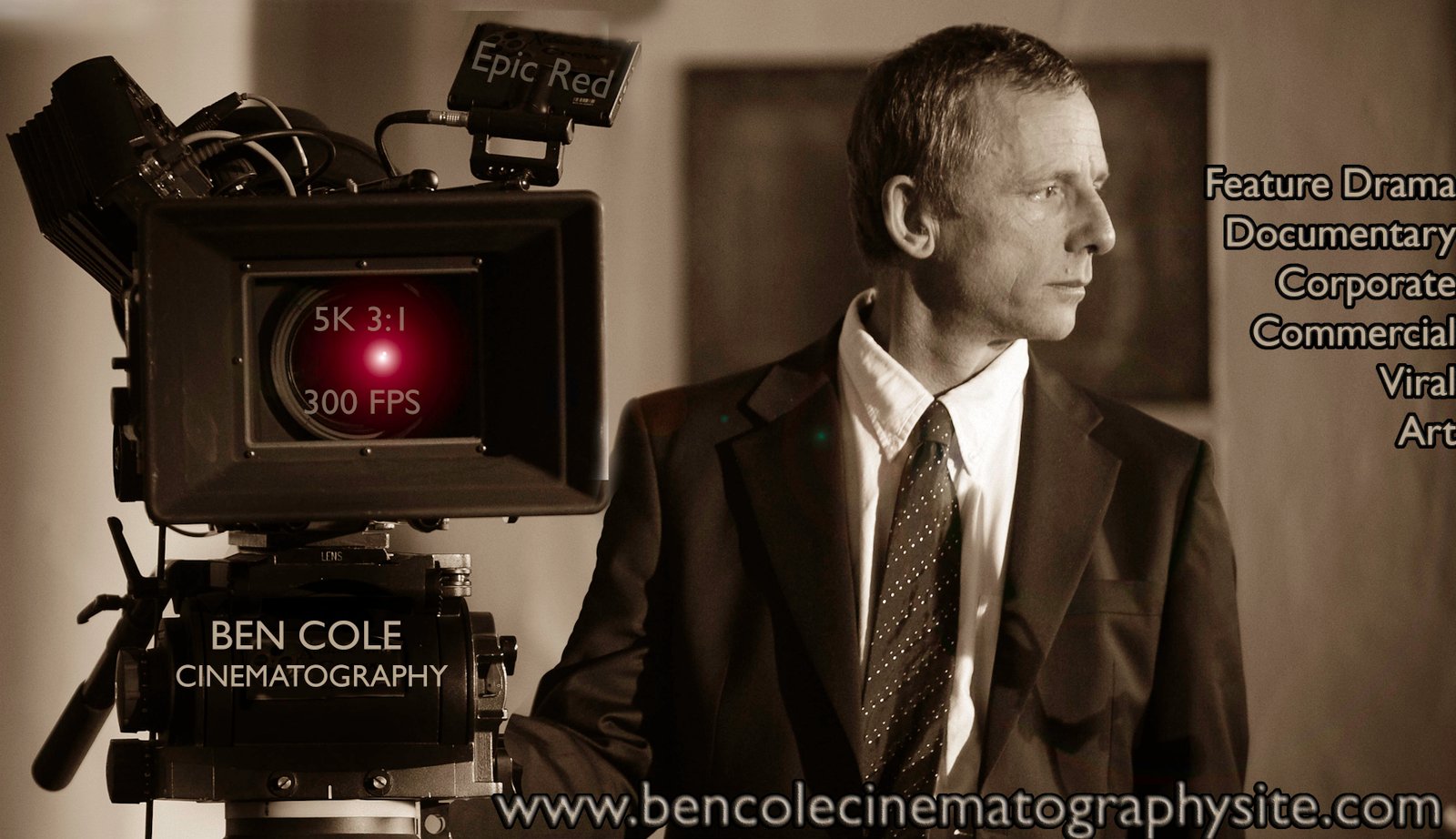 2015 Show reel Its another 'Epic Year.'

Ben Cole show reel 2015 H264 from ben cole cinematography on Vimeo.
Ben Cole Cinematography 2014 from ben cole cinematography on Vimeo.
I have been a freelance professional cinematographer for over 20 years, working on feature films, music videos, feature documentaries, short dramas, commercials and corporate video.
I have recently shot as the Director of Photography on the Drama Feature 'Winter Long' Set in the forest a redemption movie about a poacher father getting to know his 16 year old son.
My youth was spent as a professional actor working on Features and commercials observing some of the top DoP's. Since the 90's, I stepped the other side of the camera and my work has taken me many times around the globe.
I am at home with my cameras shooting in any culture from Namibian Tribesmen to Buddhist monks in China. In a rain forest in Brazil or a movie Studio in LA to a village market in Uganda.

I have DoP'd on feature films working large drama set-ups on 5K Raw digital on my the Epic RED Camera. I have set up SFX shoots in studios, Stunts in forests and can shoot undercover on locations all over the world. I am also experienced coaching actors on camera, capturing sound and interviewing those nervous corporate execs,  I am very at home working in a high end feature with all the big boys toys to a one man crew  'gorilla style' with hand-held DSLR cameras, in a studio or on any location, in any culture.
My mission is to achieve High Production Values with either top of the range 5K images on my Red Epic or 2 K HD on low cost DSLR equipment.
I am always up to date with new innovations, which is now essential in this high quality/low budget film industry.
I have worked along side amazing Cinematographers including Vittorio Storaro,  John De Boreman, Dewald Aukema,  David Higgs and Claudio Von Planta.

This experience has provided me with a broad knowledge of vision, performance and production, that I believe can be extremely beneficial on any film project.
 I have 'old school' values with modern day skills. I serve the finished film, not my own importance and have many examples of problem solving tools which can help in stressful situations. I carry, one of my best tools, a sense of humor, at all times.
Oh and if your wondering, why the use of the word 'cinematography'? 20 years ago I worked with Vittorio Storaro, one evening we were chatting about the relationship between directors and their team members. He shared why he thought we should call ourselves Cinematographers rather than Directors of Photography. "We craft cinematic images by sculpting light through glass, we should leave the directing to our directors."
Please check out my Drama, Documentary and Commercial show reels by selecting the titles at the top of this page.
Below is
 my contact details, please drop me a line about your project – always happy to chat.
E Mail:
 bencole@mac.com
Mobile +44 7956317902
Skype name: stevenbencole
facebook: bencolecinematography

I am most at home using high quality 5K images with my Red 'EPIC' Camera system:
I own a DJI Ronin too:                                      Plus a steady cam:
Or low cost HD with DSLR camera Nikon D800
with a full set of Nikon lenses:                                    GoPro 4K  with a                Quad drone  and monitor
The following is an article that explains Ben's personal mission as a all round film maker: Click each page to view: